How to Take High Road & Still Make More Money
It's election season here in New York City, and a lot of candidates' marketing is designed to highlight the flaws of their opponents. I've received many mailings that basically say, "My opponent is a liar," or, "My opponent is evil." It made me think how in business, sometimes we are tempted to put down our competition. But I passionately believe that taking the high road is better for you, your business, and your soul. Try it, and over time you'll get better results.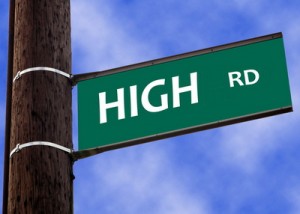 My very first marketing job was as a tour guide while I was an undergrad at Stanford. Stanford has a healthy rivalry with the nearby University of California at Berkeley. (At football games, we referred to Berkeley students as "weenies.") When prospective students would ask about the differences between the schools, I was careful to only discuss Stanford and its virtues, making no comments about our cross-town rival. On several occasions after the tour, people remarked to me how classy my answer was, and how well that class reflected on the school.
Stanford is a great product, and I know that what you're offering is awesome too. To make negative comments about your competition really does you a disservice. For one, it gives the competition free air time. Moreover, it raises the question for the customer: "Is criticizing the best you have to say? Don't you have enough good things to say about yourself?"
Three Steps to Powerful, Positive Marketing
Examples
| Negative Message | Customer Concern | Positive Message |
| --- | --- | --- |
| Our competitor is unreliable; your work may not get done on time. | On-time completion. | We have a 90% on-time completion rate. |
| Our competitor will treat you like a number. | Personalized service. | We get to know every client and personalize our work for them. |
| Their low prices mean low-quality work. | High-quality work. | Our customers are consistently thrilled with the quality of our work. |
I strive to be the thing I want to see in the world. It feels great, and it pays dividends. My marketing is positive and optimistic. As a result, I attract positive & optimistic clients, and I love working with them.
Let's stand together, and resist the mud-slinging marketing that's all around us. We'll be more profitable, and we'll create a better world.
I'd love to hear what you think! Post a reply below.