quick bio
Since 2008, I've worked one-on-one with hundreds of successful business owners, enabling them to grow much faster than ever before.
Before that, I spent 10 years in the big business world, managing business units as big as $200+ Million, at companies like Samsung & Macy's.
Entrepreneur-in-Residence for Harvard Alumni Entrepreneurs
MBA from Harvard Business School
BS in Engineering from Stanford
Interview with Evan
On the radio with the Manhattan Chamber of Commerce, Evan talk business tips, Ivy League education, and more:
Download Interview mp3
my story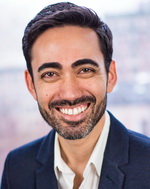 I sort of fell into the advising business. It started many years ago, when my aunt opened a dress shop. I loved talking to her about her business, asking her questions and offering ideas. My aunt had been an entrepreneur all her life but had never run a business as big as this one. I'd run big businesses in a variety of industries. She found my suggestions very helpful, and after one year she increased her sales by 50% and DOUBLED her profits.
I really enjoyed working with my aunt. Helping her become a smarter businessperson was much more exciting than my day job helping a big multinational company. So I took the leap & went out on my own, starting Evan Horowitz Advising. Since then I've helped hundreds of successful business owners in the same way as I helped my aunt.
The best part of my work is seeing fellow entrepreneurs' hard work pay off, as they make more money, and have more time to spend with family and friends! I want to thank all of my clients for their continued confidence in me. And a special thank you to my aunt, with whom I still talk business all the time!