5 Tricks to Find Part-Time Employees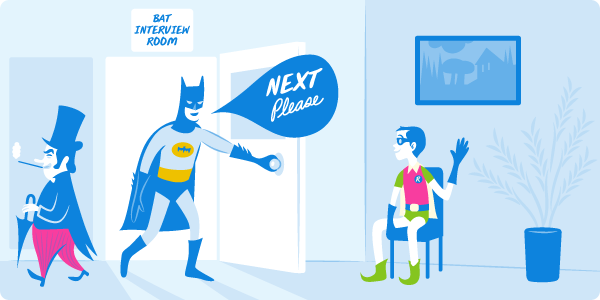 Illustration Credit: Freshbooks
A successful freelance designer recently approached me to say how overwhelmed she was. Seemingly overnight she had swung from desperately searching for clients to being swamped with project work. She needed help fast, but she didn't know how to get it. And she didn't have time to mess around.
Many small businesses face this challenge. Where do you find good people? How do you afford help without much extra cash? How can you stay flexible just in case the work dries up? Today I'll share some tricks to get you the help you need, quickly and at an affordable cost.
1. Start Small
One of my clients, a vocal coach, told me she couldn't afford help because she didn't have enough work for a full-time person. I showed her (and I'll show you here) how to get help on a VERY part time basis. Is there a 2-hour project you could use help with? Or a weekly task that takes a few hours every week? If, for example, you hire someone for 5 hours per week at $15/hour, that runs you only $300/month to free up 20 hours of your time every month!
A great place to start is administrative tasks. Could you use help with sending invoices? Making appointment reminder phone calls? One of the first tasks I "outsourced" in my business was transcribing interviews I'd done.
2. Go Virtual
Some of the most flexible (and talented) workers live far away from you. But thanks to the Internet, they can easily work for you. They can't drive the samples over to your client, but they can do just about any computer or phone task. If you haven't worked virtually before, it just takes a bit of getting used to. I have clients and contractors in several continents, and we work entirely via Skype, phone, Google Docs, and email.
Virtual has many advantages. For example, competitive wages can be lower out of the big cities, and especially overseas. Also, you access a lot of talent that needs a flexible work environment (like moms, for instance). And you don't need to provide desk space!
3. Look for People Who Have Been Pre-Vetted
There are some amazing websites that allow you to search for freelance and part-time helpers, and see how other people have rated them. This reduces your risk of running into problems. Great examples of these sites are UpWork for virtual help, and TaskRabbit for local manual labor.
On such sites you can search for the exact skill you need (for example, "MailChimp" or "blog writing"), and find people highly-rated for that skill. I recommend you test a new hire by giving them a single project. See how they do before hiring them for ongoing help.
4. Use Your Own Network
The safest hires are usually people who come referred by people you know. So proactively put the word out that you're looking for help. Mention it at networking meetings, to clients, to colleagues. You never know who will know someone. Send an email blast to your network with the job description. People love helping other people find work.
And of course, use your social media. Post a link to the job as your LinkedIn status, as well as on your personal and business Facebook pages. Invite your team members to do the same.
5. Share a Person with Another Company
A lot of great people need full-time work, so if you can only offer part-time, it can be hard to retain them. A solution to this is to share an employee with another company. Do you have a friend or business partner who needs similar help? Or maybe one of your contacts has an employee they're not utilizing at full capacity. Ask around, you might be pleasantly surprised.
You each pay the person part-time, and this gives the employee the pay and job security they need. You can split 50/50, Mon/Wed/Fri vs. Tues/Thurs, or any other combination.
Share Your Thoughts & Experience
What tricks have you found to get great part-time help? What mistakes have you made? What is your plan for bringing on your next person? Share your wisdom below!
I originally wrote this post for the Freshbooks blog.